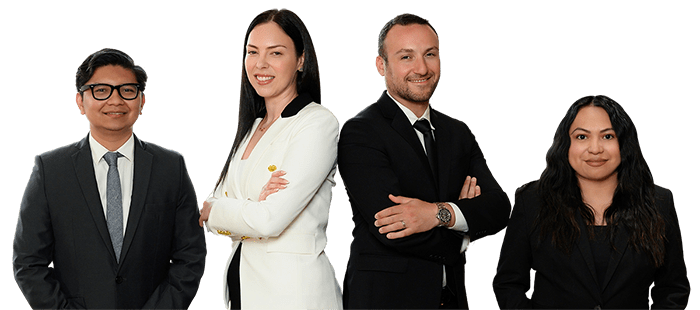 Montebello Personal Injury Lawyers
If you've been hurt because of someone else's actions, Braff Law Firm's skilled personal injury lawyers in Montebello are here to help. We know an injury can throw your whole life off track, so we're dedicated to fighting for the full justice and compensation you deserve.

In case you've recently been injured in a motor vehicle accident (MVA), slip and fall accident, dog bite incident or other major injury, our Montebello personal injury attorneys support you in submitting a claim in the most timely manner. We've earned our reputable status as an aggressive firm, standing up earnestly for the rights of injured victims.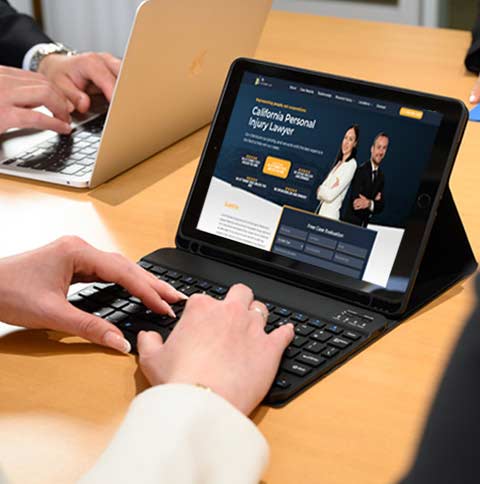 How are personal injury settlements paid out in California?
Personal injury settlements can be awarded in a lump sum, or through structured settlements over time. Braff personal injury lawyers in Montebello work thoroughly to ensure your settlement is structured in a way that best benefits you.
How does Braff Injury Law determine fault in a car or motorcycle accident in Montebello?
Determining fault in a car or motorcycle accident isn't always black and white. At Braff Injury Law, our process includes a comprehensive investigation, gathering evidence and using expert testimonials. Given our local presence in Montebello, we're well attuned to the area's specific conditions, which can sometimes play a role in fault determination.

Our personal injury lawyers are experienced in analyzing intricate details, ensuring all factors are considered. We truly believe every case is unique, and our dedicated case managers ensure thorough case evaluations. We offer a free initial consultation, and we're always available 24/7 to discuss your accident's specifics. Hiring Braff as your experienced personal injury law firm not only helps with accurate fault determination, but also ensures your rights are fully protected.
Montebello Personal Injury Lawyer
Why Pursue the Other Driver's Insurance Company?
If you're in Montebello and have suffered an injury due to someone else's negligence, you're not alone. Our Montebello personal injury lawyers are ready to stand up assertively and protect your rights. With decades of experience and a deep understanding of the local legal landscape, our dedicated attorneys are genuinely committed to helping you throughout this challenging time.

We work closely with you to understand all the details of your injury case and devise the best strategy that fits it. This is why it's essential to have a powerful legal advocate on your side who knows Montebello intimately and cares about your well-being. Trust Braff to fight tirelessly for the full compensation you deserve.
What is the time frame to file a personal injury claim in Montebello after a motorcycle accident?
In Montebello, as with the rest of California, there's a statutory deadline to file a personal injury claim post-accident. Generally, you have two years from the accident date, but there are exceptions. It's essential to act promptly to secure your rights. Our personal injury lawyers at Braff Injury Law emphasize the importance of timely filing. Given our local presence, we're well-versed with all of Montebello's unique challenges and nuances. We offer a free initial consultation, ensuring you get all the info needed to help you understand your specific case. Filing on time, with the right guidance, can be the difference between securing compensation and losing out. So don't hesitate: Reach out anytime 24/7 to discuss your case without any fees.
How do I collect evidence to support my car accident claim in Montebello?
After a car accident, collecting strong evidence right away is crucial. First, ensure safety, then take photos of the accident scene, injuries and damages. If witnesses are around, get their contact details. Don't forget to gather police reports and medical records. But while this might sound straightforward, it's essential to get it right. This is where we come in.

At Braff Injury Law, our personal injury lawyers offer expert advice on evidence collection. Our local presence in Montebello gives us an edge, ensuring a tailored approach to your specific injury case. With a free initial consultation, you can discuss your case and get expert guidance on evidence collection. We stress the benefits of hiring an experienced personal injury law firm rather than filing your claim alone. Available anytime 24/7, our dedicated case managers are just a phone call or online form completion away.
What will it cost to have a personal injury attorney represent your case?
Our personal injury law firm in Montebello works on a "contingency fee" basis. You don't pay any upfront costs; we get paid only when we win your case. Hiring us includes a free initial consultation to discuss your case.
Adriana R. ★★★★★ Very helpful quick response thank you!Annie M. ★★★★★ I have nothing but good things to say about this team at Braff Law. They are very professional, caring and reliable attorneys. I never doubted their abilities through this difficult process and would recommend their firm to family and friends. Keep up the great work!Isaac F. ★★★★★ I saw some great reviews for Braff Injury Law Firm online and decided to hire them for my case. Thank you to Elan for his work.Arnold R. ★★★★★ Braff Injury Law Firm and Oliver were able to get me a fair settlement in my pedestrian accident case. Thank you for your help.Nela L. ★★★★★ You guys are a blessing in my life. Probable one of the best injury lawyers one can find. They have taken my case and made it "personal" for them which is for sure one of the reasons we have achieved our successful outcome. Thanks a lot guys.Linda B. ★★★★★ Thank you for the fantastic service and comfort you gave us during this unfortunate time. You always made our days more hopeful and brighter. We are thrilled with the result, and can't thank you enough. Appreciate the hard work!!Kyle T. ★★★★★ Braff Law goes the extra mile to help their clients. They treat you as a person instead of a paycheck. They fight for you and help you get the right care that you deserve. They are the best at what they do! 5 stars to the whole team at Braff.Harley L. ★★★★★ This is absolutely the best law firm around! There staff is outstanding and friendly. They will always go out of there way to take care of you and make sure you are happy. I highly recommend if in need of a result driven lawyer.Elliot J. ★★★★★ After I had my accident, I was very unaware what to do, what not to say to the insurance company, and how to proceed. One thing I learned is, never deal with the insurance company directly. If you want to get the maximum compensation for your injuries, call a personal injury attorney!! I'm very glad I called these guys over anyone else. They are experts at what they do!!!Harrison P. ★★★★★ In my opinion the most compassionate group of lawyers in California. Thank You for your help.
Personal Injury Cases We Handle in Montebello
Our law firm is at the forefront of exceptional legal representation in Montebello for numerous types of personal injury cases. With our dedicated team of legal professionals, we specialize in representing clients involved in car accidents, as well as those who've suffered injuries in motorcycle and bicycle accidents. Our expertise extends to handling cases involving pedestrian accidents, which often occur from the negligence of drivers.

In addition to motor vehicle accidents (MVAs), we also handle claims for clients who have experienced slip and fall accidents, or who have been subjected to dog bites. We understand all the physical and emotional tolls these incidents have, so we're committed to helping all our clients with proper care and diligence. You can count on us to be with you when you need help most. We are ready anytime 24/7 to discuss your case. You won't pay anything until a settlement is secured on your behalf. Call us right now for your complimentary case study.
Watch Out
This is something many people fall for:
Beware of Requests for Recorded Statements from the Other Party's Insurances
When you've been injured, it's important to remember the other party's insurance company is not on your side. They often employ tactics to minimize (or deny) your claim. We advise you to exercise due caution in your communication with them. Refrain from making any statements (or signing any documents) without consulting our legal experts first. As your trusted personal injury law firm, we're here to protect your interests fully. We strongly recommend reaching out to Braff's skilled attorneys who work hard to ensure you're not taken advantage of – and that your rights are safeguarded to the fullest extent.
Are there any Montebello-specific legal rules or regulations after a dog bite incident?
While California has clear statewide laws concerning dog bites, Montebello may have its own specific regulations or municipal codes relating to pet ownership and responsibilities. At Braff Injury Law Firm, our personal injury lawyers, backed by our local presence in Montebello, ensure you're up-to-date with all the applicable rules.

Every case is unique, so understanding local nuances can significantly impact your claim. With our free initial consultation, we'll guide you on Montebello-specific regulations (and the broader California dog bite laws). We emphasize the advantages of consulting with an experienced personal injury law firm, rather than tackling your claim on your own. Our team is available anytime 24/7, ensuring you've got expert advice whenever needed.
Montebello, CA, Personal Injury Accident FAQs

BraffLaw Personal Injury Lawyers
817 W. Beverly Blvd, Ste 204
Montebello, CA 90640