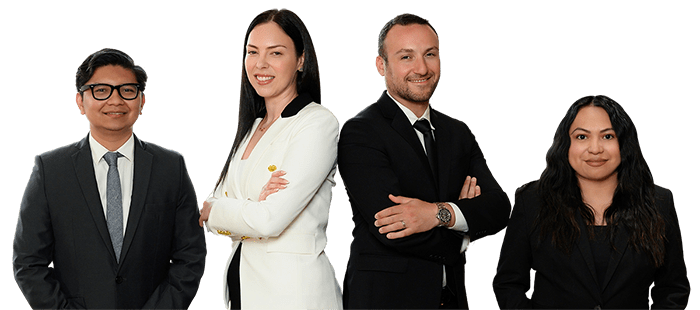 San Ramon Personal Injury Lawyers
If you've been hurt because of someone else's actions, Braff's skilled San Ramon personal injury lawyers are here to help. We know that an injury can throw your whole life off track, so we're dedicated to fighting for the justice and compensation you deserve.

In case you've recently been injured in a motor vehicle accident (MVA), slip and fall incident, dog bite or major injury, our San Ramon personal injury attorneys support you with submitting a claim in a timely manner. We've earned our status as an aggressive firm, standing up for the rights of injured victims
What rights do I have as a pedestrian involved in an accident in California?
In California, when you're a pedestrian involved in an accident, you have certain rights to safeguard your well-being and interests. These include the right to file a claim for damages if you've been injured due to someone else's negligence. At our San Ramon Personal Injury Law Firm, our proficient legal team is dedicated to championing your rights and guiding you meticulously through the right legal avenues.

We're committed to ensuring you're not alone in your ordeal, and will work relentlessly to help you secure the compensation to which you are entitled for medical expenses, lost wages, and pain and suffering.
What are the time limits for filing a personal injury lawsuit?
California law typically allows you two years from the date of your injury to file a lawsuit. However, exceptions can apply in certain situations, so it's crucial to act promptly. Braff Personal Injury Lawyers in San Ramon are available 24/7 to discuss your case for free. Don't hesitate to complete our online form or call us.
San Ramon Personal Injury Attorney
Why Pursue the Other Driver's Insurance Company?
Our San Ramon Personal Injury Lawyers are ready to stand up for your rights. With decades of experience and a deep understanding of the local legal landscape, our dedicated attorneys are committed to helping you through this challenging time. We work closely with you to understand the details of your case and devise the best strategy that fits your case. It's essential to have a legal advocate on your side who knows San Ramon and cares about your well-being. Trust Braff to fight tirelessly for the compensation you deserve.

Personal Injury Cases We Handle in San Ramon
Many of our clients in San Ramon hire our personal injury lawyers to represent them after they've been injured in motor vehicle accidents (also known as MVAs).
To protect your rights successfully, you should speak with our San Ramon accident lawyers. We have extensive trial experience, a powerful reputation, and the economic resources to fully examine and develop your injury case in order to achieve the highest compensation possible.
Motor vehicle accidents include car accidents, truck accidents and motorcycle accidents, but we also represent clients who have suffered from other motor vehicle accident injuries in San Ramon.
How does California law handle personal injury cases?
Personal injury law aims to protect individuals in California who've suffered injuries due to someone else's negligence. Our San Ramon Personal Injury Lawyers are well-versed in California law and help you navigate the legal process. At our firm, we offer a free initial consultation to discuss your case, and we work on a contingency fee basis, meaning you don't pay until we win.
What is the process of filing a personal injury claim?
Filing a personal injury claim involves collecting evidence, filing the necessary paperwork, and if necessary, representing your case in court. Negotiations with your opposing parties might take place. In instances where a fair settlement cannot be reached, our lawyers are prepared to zealously fight for your interests in court. Braff Personal Injury Lawyers are experienced and ready to handle every step with the utmost care.
What will it cost me to have a personal injury attorney represent my case?
Our San Ramon Personal Injury Law Firm works on a contingency fee basis. You don't pay any upfront costs; we get paid only if we win your case. Hiring us includes a free initial consultation to discuss your case.
Adriana R. ★★★★★ Very helpful quick response thank you!Linda B. ★★★★★ Thank you for the fantastic service and comfort you gave us during this unfortunate time. You always made our days more hopeful and brighter. We are thrilled with the result, and can't thank you enough. Appreciate the hard work!!Kyle T. ★★★★★ Braff Law goes the extra mile to help their clients. They treat you as a person instead of a paycheck. They fight for you and help you get the right care that you deserve. They are the best at what they do! 5 stars to the whole team at Braff.Harley L. ★★★★★ This is absolutely the best law firm around! There staff is outstanding and friendly. They will always go out of there way to take care of you and make sure you are happy. I highly recommend if in need of a result driven lawyer.Elliot J. ★★★★★ After I had my accident, I was very unaware what to do, what not to say to the insurance company, and how to proceed. One thing I learned is, never deal with the insurance company directly. If you want to get the maximum compensation for your injuries, call a personal injury attorney!! I'm very glad I called these guys over anyone else. They are experts at what they do!!!Harrison P. ★★★★★ In my opinion the most compassionate group of lawyers in California. Thank You for your help.
How are personal injury settlements paid out in California?
Settlements can be awarded in a lump sum or through structured settlements over time. Braff Personal Injury Lawyers work to ensure your settlement is structured in a way that best benefits you.
What damages can I recover in a personal injury lawsuit?
In San Ramon, you can recover medical expenses, lost wages, pain and suffering, and sometimes punitive damages. Braff Personal Injury Lawyers understand the complexities of every case and strive to get you the compensation you deserve. Having a local presence, our lawyers have vast knowledge of the San Ramon court system.
What can I expect during a consultation with a personal injury attorney?
We'll start by listening to your story earnestly to understand what happened in the accident. Our lawyers will ask you some questions to get all the details we need. Next, we'll talk about the legal options available to you. We know this experience might be new for you, so we'll explain things in a way that's easy to understand. It's important to us that you feel comfortable and well-informed. Furthermore, you don't need to stress about advance payment. Our personal injury law firm operates on a contingency fee basis; this means you owe nothing unless we succeed in your injury claim.
Watch Out
This is something many people fall for:
Do Not Give Recorded Statements to the Other Party's Insurance Company
Don't be surprised if someone from the other person's insurance company calls you shortly after the accident, "just to see how you're doing". Stay alert, because they likely do not have your best interests at heart. They may soon ask for a recorded statement from you, claiming it's "to clear things up".
What they really want, however, is to use your own words against you later, which can put your case at risk. Under California law, you're not obligated to give a statement to the other party's insurance company if you don't have a lawyer with you. You can simply say no to giving any statement; after which, you should get in touch with us at Braff to set up a free talk and look over your case.
Other Questions our San Ramon Injury Lawyers get Asked

Braff Injury Law Group
Consultation Office (Call for an appointment)